Google Valuing Natural Search Results?
I got an email late yesterday, with a link to a website in France, called Zorgloob. The article claims to have a screenshot which comes from the desktop of a member of Google's Adwords team. If true, it's obviously a member of Google's European group.
"Les employés de Google disposent d'outils auxquels n'a pas accès le commun des mortels. Peut-être connaissiez-vous déjà "MOMA", l'intranet de Google, qui permet aux Googlers de rechercher des informations plus ou moins confidentielles sur l'entreprise, ses employés, les réunions à venir, des documents, etc.

Aujourd'hui, Zorgloob lève un nouveau coin du voile sur l'interface dont disposent les Googlers. Du moins certains d'entre-eux. Nous sommes parvenus à obtenir une page de résultats d'une recherche sur Google, telle que peuvent la voir, selon nos informations, les employés de Google en relation avec le service AdWords."
Translated, it roughly means:
"Google's staff possess a variety of tools which are not available to the general public. Among these are the "moma" intranet service.

Zorgloob has managed to uncover yet another tool which some Googlers have access to. It's a modified version of the search results page tied into adwords"
If true, what this newly discovered service does is extremely interesting. It overlays Google's organic results with information as to whether or not the site is already an advertiser with Google, and the apparent value in Google's eye's of that organic position.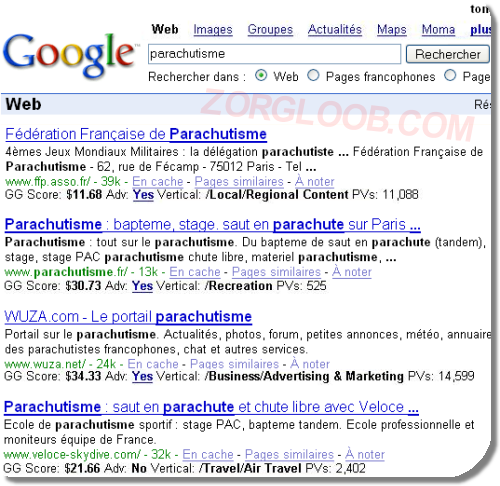 The four pieces of information: GG Score, Adv, Vertical, and PV are interesting. What I like it the "Vertical" identification. It's interesting to see how varied resources from multiple verticals can populate the results. For the rest, Adv is the only straightforward item: Is this site an advertiser or not? (Y/N). That's a great way to let your sales staff know who to call next.
Looking at the PV and the GG Score items; GG score likely ties into the estimated CPC, or perhaps the estimated daily budget / spend for each client for that term. It's really hard to tell, because the GG score value doesn't obviously tie into the expectation that PV might indicate Page Views, but I'm not sure. If PV were an accurate indicator of how many pageviews the site might have on any given day, it would imply that Google knows a lot more about every site's overall real traffic than anyone really suspected. Alternatively, it might indicate a relative strength of the Vertical, or estimated number of likely pageviews initiated by a Google search for that term on any given day.
Valleywag reported on this Zorgloob article as well, commenting that:
"But there's a darker possibility — that this data factors into Google's website-ranking algorithms. Small website owners have long groused that their Google rankings seem to change arbitrarily, and that buying AdWords seems to be the only way to get back in Google's good graces. Until now, it's been easy to dismiss their complaints as mere whining. But if Google is actively tracking the revenue potential of websites that appear in its search results, who's to say it can't quietly tweak those results to help its salespeople meet their quotas?"
I don't believe Google is tweaking its results for this purpose. Nothing so nefarious at all. If I were running an ad network, I would want my sales staff to know and understand who's advertising, and how much certain clicks are worth. In a lot of circumstances it's difficult to advise people how much to spend. With a tool like this, Google's sales staff can be much more precise, and provide much better information and customer service to potential and existing clients.
2 Responses to "Google Valuing Natural Search Results?"